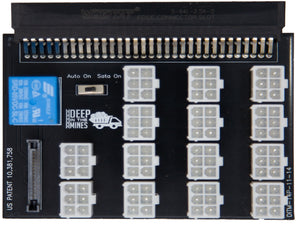 1100w Liteon 1400w Dell Breakout Board DITM-14P-11-14
This DITM-14P-11-14 breakout board is exclusively compatible with select Dell, Delta and Liteon models: DPS-1200MB 1400w (220-240v), D1200e-s1 1400w (220-240v), DPS-1200MB-1C (220-240v), and PS-2112-2L 1100w (110v-240v).
This board is not suitable for use with HP power supplies.
Additionally, the board has "Auto-on" and "Sata-on" modes which auto on enable automatic power cycling in the event of a power outage and sata on synchronization with an ATX desktop computer power supply.
---
We Also Recommend